People often think that it is easy to take care of teeth. However, many snags in our daily routine could hamper our oral health.
If you think that you are doing everything to get the perfect smile, but it still is not sufficient, then you might be absentmindedly making some mistakes in your daily routine.
Let us look at some of the common oral mistakes that we do not know about.
1. IT IS ALL IN OUR DIET
We know that we should avoid sweets, but they are so tempting. It is not always possible to avoid sugary foods. However, if you are going to have sweets, try eating it at the end of the meal. This avoids the bacteria that produce acid and damage our enamel. And eat fruits and veggies; they have lots of teeth strengthening vitamins and minerals.
2. AVOIDING DENTAL APPOINTMENTS
Oral hygiene is not all about brush, floss, and repeat. You may think that you have perfectly healthy teeth, but that doesn't mean you can skip your dental appointments. You should keep checking up with the professionals to get a surety. So make sure that you schedule a dental appointment once a year.
3. SKIPPING THE BASICS
Skipping brushing and flossing is not very good for your teeth, of course, you know that. However even forgoing the rule, brush twice-a-day could be very damaging. Coming to flossing, there are very few percentages of people who bother with flossing twice a day, and there are some who don't floss at all. Our mouth is full of bacteria all the time. And when these bacteria sit on our teeth for a long time they produce acid that can damage our teeth. Brushing helps in removing these bacteria and flossing helps in cleaning the area where the brush cannot reach.
4. SIDE-TO-SIDE BRUSHING
You cannot just stick the brush in your mouth. Move it in different directions and be done with it. How you brush affects your oral health as well. First, use a toothbrush with soft bristle and instead of going side to side, brush in small circles. Also when you brush, brush along the gum line to effectively remove bacteria.
5. TOOTHPASTE
Some toothpaste promotes them as fluoride-free. However, you need fluoride to achieve efficient oral health. Fluoride helps in replacing the minerals that were worn away by acid produced by bacteria. It can be helpful in repairing the damaged teeth as well.
6. YOUR TEETH ARE NOT A TOOL
Using your teeth to bite nails, open bags or worse using them to open bottles are very damaging. Our teeth are not made to do such cutting actions. Over the years our teeth's edges will wear off, and this will make it easier to get injured if you go wrong.
7. DRINKING SUGARY DRINKS WHOLE DAY
Unless you are drinking a sugar-free soda, you are risking your oral health. We all know that sugary drinks are not good for our health, so try to avoid these drinks as much as you can. If you drink, brush immediately after it. This rule also applies to all the sugary snacks like chips and pretzels.
8. GIVE IT 2 WHOLE MINUTE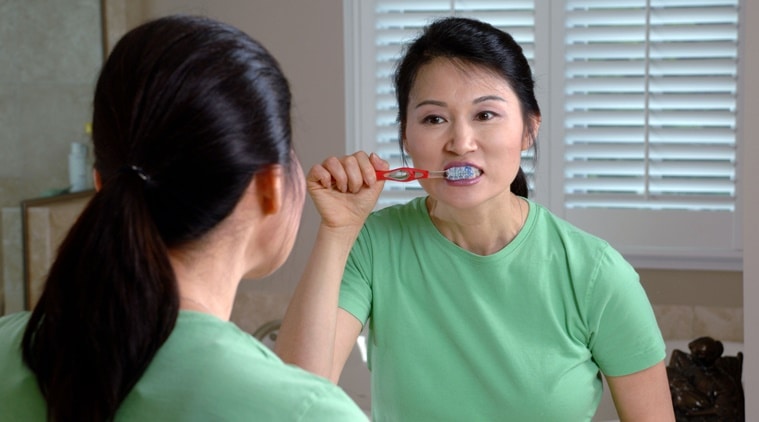 Timing is also very important for your oral health. You cannot keep brushing for half-an-hour, or you cannot be done with it in just 30 seconds. Brushing for long can damage your enamels. Whereas, brushing for less than adequate time would not fight off bacteria effectively. So, you should at least give it 2 minutes. Try not to go over 5 minutes, or you may risk damaging your teeth.
9. DEHYDRATION
We all know the effect of food on our oral health. However, drinking adequate water is also very important for oral health. Drink lots of water, always keep yourself hydrated. Plus after a meal, clean your mouth thoroughly with water to wash away bacteria.
10. PIERCINGS
Tongue or Lip Piercings may make you look cool or whatever, but it is certainly not good for your oral health. People with piercing in their mouth have a greater chance of fractured or chipped tooth. Plus some also face gum recession and soft tissue injuries because of piercing.
These were some common mistake we do that affects our oral health. Make the necessary changes to ensure that you have a good oral health